Rostrevor Hurling Club
Home page
What is hurling?
Hurling, the fastest field sport and the oldest ball game in the world. This is the view of many supporters of Ireland's national sport. It is played between two teams of fifteen, each player having a "caman"(a stick made of ash). The ball used is a "sloithar", made from tightly wound threads covered in a skin of leather.
According to folklore, hurling was a sport played by young Irish warriors for both recreation and to hone their reflexes. Like all folklore there are sensational stories of how good these warriors were. One warrior in particular, Setanta, was so fast when he would poc (Irish far strike) the ball as far as he could he would then run after it and catch it before it hit the ground.
In 1884 All Ireland rules were drawn up to both cut down on injuries and to rejuvenate it ,Gaelic football and handball which were dying out under British rule.Modern heroes of the game include Mick Mackey (1940's), Christy Ring (1950&60's), Jimmy Barry Murphy (1970's), The Great Galway teams of the 1980's and the Clare and Offaly teams of the 1990's.

Rostrevor.
Rostrevor is situated in Co. Down, on the North Eastern coast of Ireland. It has a population of around 2000 people. The picture below is taken from the top of Sl. Martin. It shows Carlingford Lough, Rostrevor (the bottom right) and Louth (the mountains in the background).
Rostrevor Hurling.
Co. Down is not a stronghold of Hurling. There are currently 15 clubs in Down and few enjoy the level of reognition they deserve. Rostrevor won the County Down Hurling championship in 1994 after loosing the previous 3 finals. Since then despite individuals representing Down on both senior and "B" teams there have been no further championship wins.

The 1994 championship winning side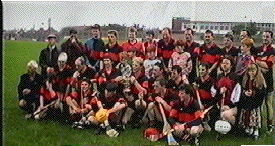 The 1998 squad
The Rostrevor Hurling team is supported and maintained by hard working members of the team and the Rostrevor business, the haulage company called Tinnelley Transport. The following report is a newspaper article on the 1998 all-Ireland 7-a-side hurling championship:-
Cumann Naomh Jude of Dublin was again the venue for the All-Ireland junior 7-a-side hurling championship. Local interest came in the form of a Newry based sponsor, Nuri sports equipment, and two Down hurling clubs, Leitrim Fontenoys and St. Bronagh's Rostrevor.
In the past the competition included household names such as the Tipperary all-star John Leahy and the Sarsfield club of Galway, the dominant force of club hurling over the past decade. This high standard of hurling was present once again this year, with two of the competition's qualifiers, Castlelyons and Belmont, supplying players to this years Cork minor and Offaly senior county teams respectively.
Against this opposition qualifying for the quarter finals would be an impressive feat. Leitrim qualified from their group in second place behind eventual competition winners Roscommon Gaels. Unfortunately their dominance in the quarter- final was not translated into scores. They were to lose by five points to Ahascragh of Galway.
Rostrevor certainly stood out in their group. Their fitness, organisation and skill was in a different class. It became immediately clear that Rostrevor would progress to the knock out stages. Their panel of ten constantly rotated enabling a high tempo of play to be maintained through out the qualifying matches.
Their quarter - final win was emphatic, in fact Setenta registered no score . Indeed Rostrevor's defence were little troubled. The midfield and forwards came up against meagre opposition, the win brought Rostrevor through to the last four.
In the semi-final both Rostrevor and Thomas Davis settled well. The first five minutes produced entertaining open hurling, with Rostrevor taking an early 2 point lead. Tactical switches, involving moving Liam Boyle to goalkeeper acting as a third back and moving Shane Boyle to midfield to act as play maker, saw Rostrevor ahead at half time. Failure to translate further possession in to scores was one decisive factor in their defeat. Having their panel reduced to nine, by an injury to Mark Mc Cartan, was another. Tied through out, the match was decided by a last minute Thomas Davis goal. Although the panel performed consistently well throughout Rostrevor's most outstanding performers were Richard Mc Nally, an outstanding minor, Francis Mc Cartan, who played well in every position asked, and county star Anthony Tinnelly.
Rostrevor Panel:- L.Boyle; S.Boyle; M.Brown; F.Mc Cartan;M.Mc Cartan R.McNallyJ.Murphy;P.Murphy A.Parr; A.Tinnelly.

1997 Match reports.
Rostrevor 2-7 Ballycran 3-9
16/6/97

An under strength Rostrevor side were eventually beaten in the Down hurling league by Ballycran in Pettit park on Monday night. Ballycran started well with a point in the second minute. Points from Paul Brown, a solo effort, and John Murphy, from a Louis Mc Nally pass, were followed by two goals. A Brian Harper pull on an Anthony Tinnelly free produced the first, the second a Peter Murnin shot which ricocheted off a defender in to the net.
Ballycran replied with a point and Rostrevor's lead was gradually eaten away. Another John Murphy point from a more acute angle left it 2 goals and 4 points each at half time. Both teams displayed a high level of determination in the second half. Ballycran had a greater ability to take their scores when the chances were presented.
Rostrevor scoring only 3 points in the second half proved to be their downfall. The two evenly matched teams were drawing up to the 55 minute when Ballycran finished strongly with a goal and two points.
Rostrevor can take heart from another determined team display. Newly emerging talent in the form of John Murphy, scoring 2 points from play, combined superbly with the ever youthful Louis McNally, with one point. Key players for Rostrevor were an always dependable Anthony Tinnelly, the Brown brothers Paul and Martin and the magnificent Francis Mc Cartan, whose fitness enabled the dominance of mid field for the majority of the match.
Training is on Thursday night at half seven all those connected with the team are expected to attend.

Rostrevor:- D.Tinnelly, D. Baxter,B. Curran,K. Mc Veigh,M. Brown, A. Tinnelly(0-1), P. Murphy, F. Mc Cartan,P. Brown(0-2),J. Murphy(0-2),P.Murnin(1-0),M.Mc Cartan,M.Mc Kevitt, B. Harper(1-1), L. Mc Nally(0-1)

Rostrevor 1-13 Ballygalget 1-5
26/5/97
Shane Boyle's monstrous puckouts proved decisive as Rostrevor cruised to an eight point victory over Ballygalget in the second division of the Down Hurling League on Monday night. Rostrevor started magnificently with inspirational full forward Brian Harper scoring a goal and a point in the first four minutes ably aided by the industrious Mickey Mc Kevitt. One point from Louis McNally and two from Paul Brown were cruelly cancelled by a slack Ballygalget goal against the run of play. This left the scores Rostrevor 1-5 Ballygalget 1-3 at half time.
The second half was graced by a scintillating performance by Anthony Tinnelly crowned with a point from at least 80 yards. He continuously out played his man setting up many scores from his newly acquired half back position. Ballygalget only managed two points in the second half due mainly to relentless hounding by the recently returned and zestful Martin Brown and the entire fullback line. Rostrevor managed to ease away with the accurate free taking of Paul Brown and Louis McNally and an excellent long range point by Pat McGrath. The ability to score long range points when opportunities were presented proved decisive for Rostrevor.
Once again the shear determination and persistence by every Rostrevor team member told in the end. The reshuffle of the Rostrevor team was a definite success The final score of Rostrevor 1-13 Ballygalget 1-5 is an accurate reflection of who the better hurling side was on the night.

Rostrevor Team:-
S. Boyle, D. Baxter, L. Boyle, K. McVeigh, M. McCartan, A. Tinnelly (0-2), M. Brown, F. McCartan, P. Brown (0-6), J. Murphy, P. Murnin, P. McGrath(0-1), M. McKevitt, B. Harper(1-1), L. McNally(0-2).
Substitutes:- S. Mc Nally for M. McKevitt (40 minutes)
For further info contact Murphy76@altavista.net